London and the Lion King!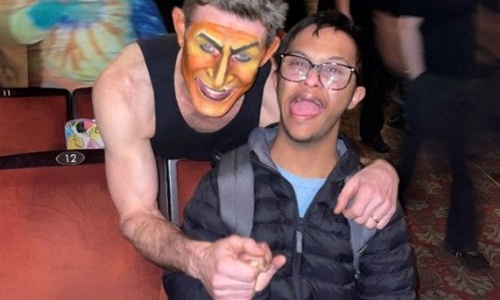 Holly and Chestnut students wrote a diary about their day, and have written a letter of thanks and made a "Thank You" card, both of which will be sent to the Payne Gallwey Charitable Trust who kindly provided the grant which funded this trip;
We got on the mini bus at 9 am and made our way to the Didcot train station.
We made safely to London.
In London we went on the escalators. For some of us it was the first time!
We then all jumped in black cabs and made our way through London. We loved seeing all the Christmas lights!
The restaurant was called Bella Italia. We all had the most delicious meals and yummy desserts.
We walked across the road to the Lyceum Theatre for The Lion King West end Show!
We loved everything about it, the costumes, the music, the puppets, the giraffes look real because they were on stilts!
When the show finished, we had an opportunity to see, speak and take pictures with the one and only George Asprey. (actor of Scar) We also saw him on a zoom call, asking lots of questions the day before the show even happened. We are so lucky!
Once we finished at the theatre, we began our journey home, some got the underground, some got the taxis. It was a spectacular adventure.
Since September, we have been practising how to catch a bus, we have looked at bus timetables, learnt how to pay the bus driver and check our change. We have been out and about locally on the bus. It was good to use different types of transport in London.
This term we have learnt how to order food and drinks in a restaurant. We have looked at many menus, we have selected what we wanted to eat within a budget. It was good to put into practise what we had learnt.
It was so nice to go to Bella Italia and socialise with friends. The waiter took our drinks order and served our food.